2017 - 2018 Web Tax Guide
Information On All Tax Planning Needs
The comprehensive guide Covers all aspects of personal and business tax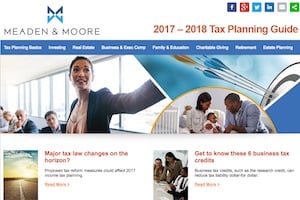 This in-depth eight category guide will help get your business and personal tax needs in order for upcoming filings. In this guide, you will find:
Details for tax planning basics, including:
Alternative minimum tax (AMT) triggers as well as how to avoid/reduce AMT
Miscellaneous itemized deductions
Health care breaks
Employment and self-employment taxes
Information for handling investments, real estate and retirement, such as:
Capital gains tax and timing and the net investment income tax (NIIT)
Home-related tax breaks, home rental rules, and the home office deduction
401(k)s and early withdrawals, other employer plans, Traditional IRA, and Roth options
A dedicated section to tax planning for businesses, with advice on:
Projecting income
Employee benefits
Tax credits
Business structure exit planning, and sale or acquisition
This is just a fraction of what our Web Tax Guide has to offer. Fill out the form to access the guide!